CONFERENCE ANNOUNCEMENT: Faculty of Education 2021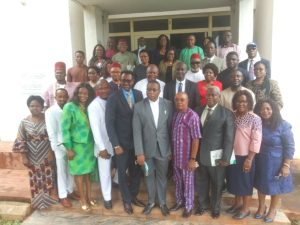 Meritorious Award
Meritorious Award and Grand Reception in Honour of Distinguished Colleagues and Friends of the Faculty of Education, University of Nigeria, Nsukka
Prof. Uchenna N. Eze – Honourable Commissioner for Education, Enugu State, Nigeria,  Prof. Boniface Ginikanwa Nworgu – Honourable Commissioner for Science & Technology, Imo State, Nigeria, Hon. Dr. Chukwuemeka Joseph Chukwu – Independent National Electoral Commission (INEC), Resident Electoral Commissioner, Ebonyi State and Hon. Prof. Kay Chinoyelum Onyechi – Honourable Commissioner for Education, Anambra State (2006-2012) on Wednesday, 20th October, 2021 received Meritorious Awards of Excellence at the grand reception organized by the office of the Dean (Prof. Joshua E Umeifekwem), Faculty of Education in honour of eminent distinguished colleagues and friends of the Faculty of Education who had distinguished themselves in contributions in one way or the other towards the socio-economic development of their various communities, state and beyond. This event took place at Princess Alexander Auditorium, University of Nigeria, Nsukka immediately after a short Courtesy Visit to the Vice-Chancellor, Prof. Charles A. Igwe accompanied with Heads of Departments, distinguished professors in the Faculty and few members of the Organizing Committee.
In addition, six other illustrious friends of the Faculty of Education were honoured as distinguished achievers with merit awards reserved absolutely for their extraordinary passion for promoting communal progress through educational scholarships and empowerment – His Excellency, Barr. Eric Kelechi Igwe – Deputy Governor of Ebonyi State, High Chief (Hon) Dr. Ikechukwu R. C. Okenyi – Omeluora I of Orba CEO/MD, Remmy Collins Ventures Ltd., Hon. Augustine Nnamani – Ozoigbondu I of Enugu State, Chairman, PDP, Enugu State, Barr. Austin A. Ogbonna – Omeluora & Ochiliozuo, CEO of AAO Foundation, Awka, Anambra State, Alhaji Sani Friday Nnaji – CEO/ME, Doyen of Agricultural Advancement Technology Nigeria Limited, Zamfara State and Evang. Kevin IK. Asogwa – Business Tycoon and Captain of Industry, CEO/MD – First Gate Business Intermediaries LTD, Abuja.
Special Visit to the Dean, Faculty of Education by the SUG Senate President, ESA President and other Functionaries
On February 22, 2022 (22.2.22), the Students' Union Government (SUG) officials who are in the Faculty of Education paid a visit to the multi-capacity faculty Dean, Prof. Joshua E. Umeifekwem and his Associate Dean, Dr. Ken Chukwuemeka Obetta who both welcomed them like a father would his children.
The SUG Senate President, Dist. Sen. Odom Joseph who led the team acknowledged the efforts of the Dean and commended him for pioneering many projects (like the ultramodern faculty building, toilet and restoration of the faculty light) in the faculty and leading an exemplary administration. He further stated that his positive leadership qualities and humility has really put him in the best position to advise the SUG Comrades as they continue in their own leadership for the good of the students.
Adding to the Senate President's remark, the Faculty President, Comr. Eze Sunday, restated his willingness to keep working in good synergy with the Faculty Administration, while commending the Dean for his open-door policy and friendly nature, especially towards the students' leaders overtime.
Among those that went for the visit alongside the Senate President are Comr. Okolo Chibuzor Santos (SUG Secretary General), Hon. Pascal (SUG HOR), Hon. Anastasia (SUG HOR), Sen. Adim MaryJane (SUG Senate), Sen. Chimaobi (SUG Senate), Sen. Hero (SUG Senate), and Comr. Aneke Cyriacus Saneke (Founder, Pen-Power Foundation).
By
Dist. Sen.Odom Joseph Chiedozie
SUG president of the Senate